Please join us in congratulating Dave Matson of the Jamestown Maintenance Facilities, who has been selected as the 3rd quarter honoree for the Jamestown Employee Honor Award. Dave Matson was nominated by his peers, supervisors, and citizens, for their outstanding contributions to our workplace.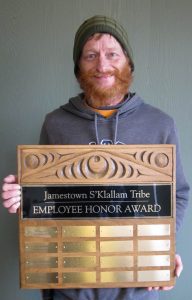 The quarterly Jamestown Employee Honor Award recognizes employees who:
Go above and beyond by providing exceptional service
Demonstrate creativity resulting in cost savings or efficiency
Play a key role as a volunteer for tribal functions/events
Act as an ambassador to the community
Demonstrate a high level of initiative.
Here are some excerpts from the nominations (Dave was nominated by 2 peers):
"Dave is always incredibly helpful and offers a high level of customer service, no matter how menial the task being asked of him. He has a great attitude and understands that his work, and how he approaches it, make the workplace better for all the staff whom he serves. I know that when I ask Dave to do something, it will get done properly and on time, and the he will ask questions if I am unclear. He is full of energy. If he's at work, he's working!."
"He demonstrates high speed energy with a full time smile. He keeps the ever growing campus in pristine condition from top to bottom with a focus on safety. cleanliness and kindness. He is quick to respond and never complains, but always leans into problem solving and supporting team members with a helping hand. He is efficient and costs effective, while maintaining high quality standards to keep things running smoothly. Dave is an example of positive attitude and can do charisma! Thank you Dave."
"Thank you to everyone who took time to recognize their co-workers; keep those nominations coming!" – The Human Resources Department
---
The Tribe Seeks Nominees for Employee of the Quarter Award (Form)