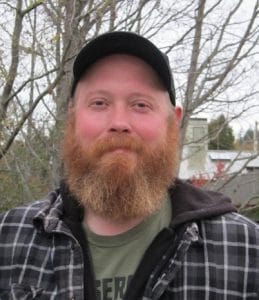 Please join us in congratulating Ilan Jones, Water & Wastewater Utilities Specialist, who has been selected as our 2nd quarter honoree! Ilan has been working for Jamestown S'Klallam Tribe since 2011.
The quarterly Jamestown Employee Honor Award recognizes employees who:
Go above and beyond by providing exceptional service
Demonstrate creativity resulting in cost savings or efficiency
Play a key role as a volunteer for tribal functions/events
Act as an ambassador to the community
Demonstrate a high level of initiative.
Here are a few words describing his positive impact here at JST!
"Ilan has proven he is a valuable asset to our work force. The US EPA Seattle requested a higher level certification for our water systems. Ilan stepped up and passed the very difficult Water Distribution Manager 1 certification. He is also close to achieving the difficult Wastewater Sewer and Treatment Certification. His technical knowledge of electricity has saved Tribal Government monies in an area of fiscal restraint. Ilan is a Lead Facility Supervisor, and now a Water and Wastewater Utility Specialist position. His leadership assistance has afforded the Facilities Manager more time to manage areas that were previously being neglected. Most importantly, Ilan is learning the valuable art of mentor-ship. He is investing his knowledge in our skilled Maintenance and Utility Worker I new hires and is helping me in create a highly talented staff capable of overseeing complex Facility needs.
Overall, Tribal Staff appreciate his can-do attitude, and he brings a positive atmosphere to everyone in his daily tasks/assistance. Very few employees can be categorized as "irreplaceable", but Ilan's contribution to the Facilities Division is invaluable. I've been in this business many years and I've never had a staff person that was "irreplaceable"…until now. Most importantly, Ilan has "charm!" and everyone appreciates his smiling face and willingness to assist ASAP. He has adopted our Facility Guiding Principle #1 with passion. It states, "helping and assisting is the center of our mission.""
"Thank you to everyone who took time to recognize their co-workers; keep those nominations coming!" – The Human Resources Department
---
The Tribe Seeks Nominees for Employee of the Quarter Award (Form)