Jerry Monson was chosen Volunteer of the Year for showing selfless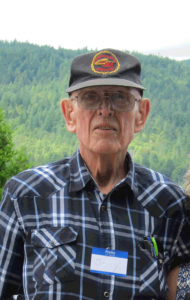 generosity by volunteering significant time and talent in service to the Tribe.  The following are some of ways Jerry has volunteered for the Tribe:
For the Elder gatherings Jerry is always willing to carve mini paddles and cedar buttons, over 400 each.
At the paddle journeys Jerry has spent many hours working as ground crew over the years and continued to do so again this year.
He continues to share his knowledge of nettle plants and teaching of knife making.
He can always be counted on to help with bagging up Elders meals on Wednesday mornings and helping at the casino to load boxes of fruit on delivery day.
He has always made himself available at events where fry bread is being served.
He has a smile and upbeat attitude for everyone!We deeply appreciate Jerry for all his sincere commitments to our community and families.